Man with 'DEVAST8' face tattoo says he can't find work ••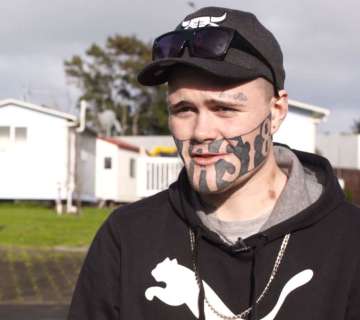 A young man with a tattoo on his face reading 'DEVAST8' has said he is having difficulty finding work after being released from prison. Mark Cropp, from New Zealand, had been inebriated when his cell mate – who is also his brother – gave him the tattoo, while he was completing a two-year sentence in prison for an aggravated robbery charge.

If you are a lover of God Almighty, you will download this music..
•• •• ••
Download Mbombo "Ekwe Nak" by A.JAY .. This song will rock your playlist for a very long time.. DOWNLOAD NOW
•• ••
https://paulikpe.net/category/all-pib-movies/">DOWNLOAD PIB FREE NOLLYWOOD & HOLLYWOOD MOVIES HERE
DOWNLOAD PIB FREE & FRESH MUSIC HERE
••
PLACE YOUR ADVERT HERE ON Paulikpe.Net❤ Call 07068326095
••
If you have extra trouble downloading any of our contents, ask for PIB help immediately, Call or Chat with us on whatsapp or Call our Download Engineers on +2347068326095, +234811 231 4242 (Both Whatsapp). We are ready to give you the best service 247
••
IT IS VERY REAL! WIN FREE AIRTIME CREDIT EVERYDAY (NIGERIA ONLY)..
JOIN PIB WHATSAPP GROUP NOW! JUST PRESS HERE
••
For Advert or Sponsorship Consideration
Contact PIB Media:
+234 706 832 6095 {Paul} (WhatsApp)
+234 811 231 4242 {WhatsApp}
Mail:
Paulikpeonline@gmail.com
PIB ON BBM ADD UP
Pin:D1B08CD4
or
Pin:D8CC68C9
Remember to Drop a Comment let us Know What you Think About What you Just Read. Also Share & Like